RVC 3030/G Vibraphone, 3 octaves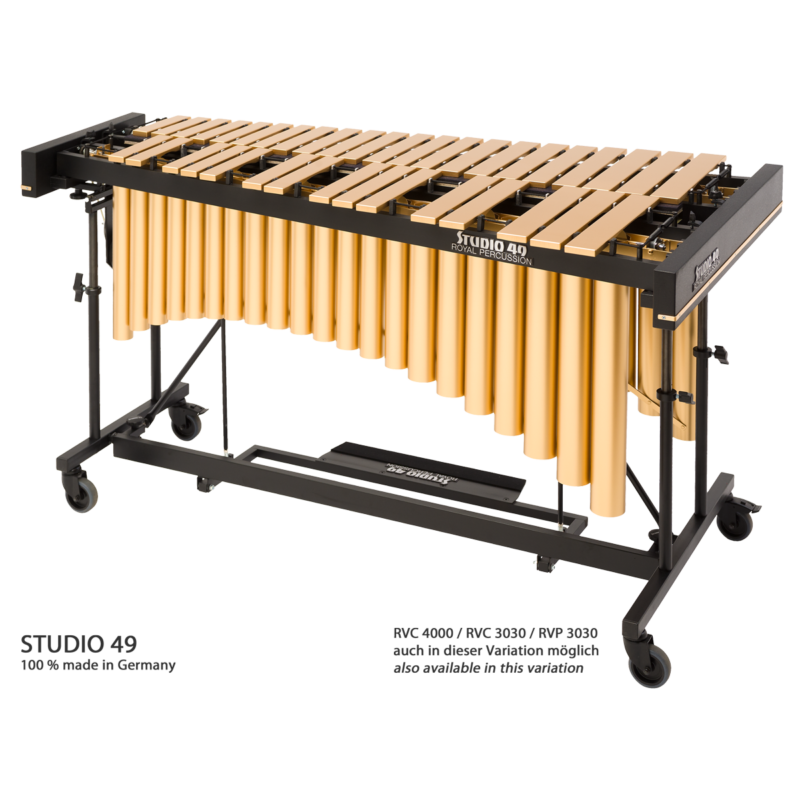 Sound and Intonation:
Tonal range f - f3
Wide dynamic range with sensitive response
Bars tuned to the third harmonic
Removable tone bars made of high grade aluminium alloy up to 57 mm wide and 13,5 mm thick
Bars manufactured in up to four widths for optimal tuning and tonal quality
Tone bars in golden laquered
Tuning from 440 to 446 Hz without extra charges
Construction and resonators:
Extremly solid and stable frame even after frequent assembly and disassembly
Easy height adjustment using an integrated counter-balance mechanism
Beams using an aluminium/wood sandwich construction for lasting satbility
Graduated resonators made from high quality aluminium, golden laquered
Large wheels, two with brakes
Damping:
Lifelong, perfect and conistent damping over the complete tonal range even when the keyboard is tilted thanks to special joints at each side of frame and dual damping rods
Damping travel and damping characteristics can be adjusted easily to individual requirements. The damping system is adaptable to suit a wide range of musical styles from for Symphonic to Jazz.
Extrra-wide pedal in the concert Series for flexible, convenient damping
Vibrato facility:
Syncronised rotation of the fans with approx. 20 - 150 rpm
Reinforced, hard-wearing drive belts
Exceptionally quiet and efficient sealed motor with fine control of fan speed. Dual voltage 110/220 volts with innovative, energy saving drive
Option of Memory-Stop-function with foot switch control available on delivery or as an upgrade.
Protective cover and one pair each of No F 013, F 014 and F 015 mallets are included.
Order-no.: RVC 3030/G
Dimensions of instrument
Length: 151cm
Width: 79cm
Height: 77 - 95cm
Weight: 48,00kg
RRP: 7.230,00 € (D)
incl. 19% VAT